Why We Need a New WPA, and Other Culture Highlights From This Week's 'New York'
Plus: 'Slumdog Millionaire'! 'Bolt'! 'Billy Elliott'! Ellen Kuras!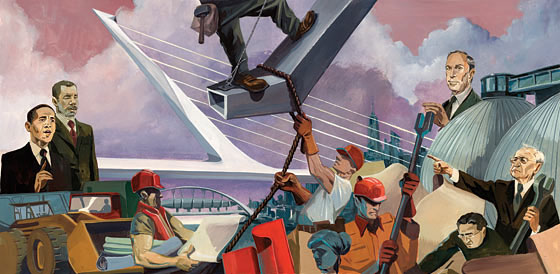 Justin Davidson proposes a new WPA to revive New York's architectural prospects. Davidson also reviews La Damnation de Faust. David Edelstein reviews Slumdog Millionaire, Bolt, and The Betrayal. Dan Kois chats with director Ellen Kuras. Emma Rosenblum reveals Ugly Betty's secret weapon, Becki Newton. Scott Brown reviews Billy Elliot. Will Leitch examines Q-Tip's comeback potential. Amy Larocca uncovers Jessica Lange's path back to photography. And Ken Tucker charts the rise of the original gangsta: Scarface.