Hot Lava and Cool Artwork: Exclusive Comics Excerpt From Don Wood's 'Into the Volcano'
Two young brothers, Sumo and Duffy, are sent to visit family members they've never met on a remote Hawaiian island. A journey deep into the heart of an erupting volcano will test their mettle and reveal the truth about the mother they haven't seen in years — but just might kill them both. Caldecott-winning children's-book author Don Wood's first graphic novel, Into the Volcano, is a gripping, gorgeously drawn adventure story that captures the terrible beauty and danger of life on the volcano's edge.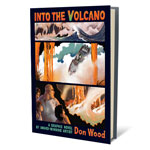 On today's Comics Page, Vulture is proud to present an exclusive twelve-page excerpt from Into the Volcano, out now from Scholastic.


Illustration: Courtesy of Scholastic