Veterans Day Special: Exclusive Comics Excerpt From WWII Memoir 'Alan's War'
In 1994, cartoonist Emmanuel Guibert was hiking on a small island off the Atlantic coast of France and asked an old man for directions. That old man was Alan Cope, an American veteran of World War II who after the war had left the United States for Europe and never returned. The two men became fast friends, and soon Cope was telling Guibert his wartime stories. G.I. Alan Cope's life during wartime wasn't all that different from that of other soldiers, but Cope's storytelling élan captured something special about the era, and soon Guibert began drawing the stories his friend told him. The result is Alan's War, a funny and thoughtful graphic memoir of World War II, told through Alan Cope's warm voice and Emmanuel Guibert's astonishingly beautiful black-and-white artwork.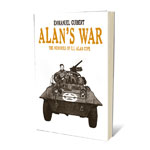 In honor of Veterans Day, Vulture is very proud to present an excerpt from Alan's War: The Memories of G.I. Alan Cope, by Emanuel Guibert. The book comes out this month from First Second.

Illustration: Courtesy of First Second Books