Art Basel: The Works That Sold — and Sparked Conversation
Sculpture, stainless steel, new works, and art from the Middle East and Asia dominated at a very active fair.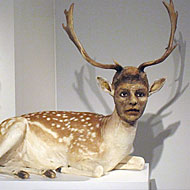 All revelry aside, the art that's shown — and, especially, sold — at Art Basel Miami Beach and its satellite fairs sets the tone and tastes in the art world for months to come. New stars arise, power reshuffles, and deals are done. And while there weren't many deals in the seven-figure range this year, there were a lot of deals in general. What did it all look like? Sculpture was ubiquitous (there's an art-dealer adage: "When collector walls are full, sell them sculpture"), black-and-white photography not so much. Stainless steel and good old-fashioned paint-on-canvas were the mediums of choice. As for sales, (cheaper) editioned work was popular, and very recent work did surprisingly well. Latin art had something of a mainstream breakthrough, popping up all over, and some Middle Eastern and Asian artists sold well. Here are top examples of what got taken home or talked about, and why.