Red-Carpet Look Book: Emily Blunt
A fashion yearbook for the star of <em>The Young Victoria</em>.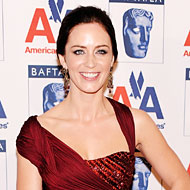 Emily Blunt is one of those actresses who uses her wardrobe to emphasize her career identity. At 26, she could easily be flitting about in fun minidresses and punchy frocks. Instead, in keeping with the serious roles she mostly plays, she's a mature presence on the red carpet: pretty, curve-hugging cocktail dresses, hip pantsuits, and opaque tights when the hems shrink to above the knee. Blunt avoids boredom and repetition by opting for dresses with interesting and/or playful fabrics (which also helps to keep her look appropriately young), though she's clearly a fan of the strapless stuff — and that's fine, since she rarely uses the style to bust out her push-up bra. When she does opt for something a bit more revealing, she keeps it classy by balancing the skin factor with a more traditional, glamorous gown.