How Does Inception's Overly Detailed Chalkboard Compare to Other Overly Detailed Chalkboards?
'Inception' faces off with 'Good Will Hunting,' 'The Simpsons,' 'I Heart Huckabees,' and 'School of Rock.'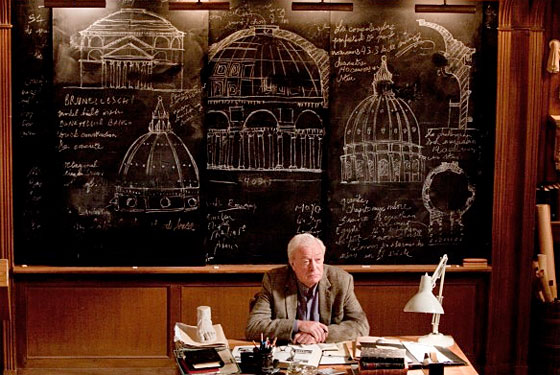 Forty-one stills for Inception have been released, and they seem to confirm that [spoiler alert!] everyone wears clothes, sometimes walks around almost upside down, and that, yes, this movie will be awesome, confusing. One image in particular of Michael Caine sitting in front of a chalkboard covered in detailed architectural drawings caught our attention: It looks cool and mysterious! But what does it mean? And how long did it take the set designer's intern to put that thing together? Once started down this thought path, we arrived at the only logical question: How does it compare to famous chalkboards from other movies? Let's see!

Good Will Hunting: The chalkboard on which Will Hunting outs himself as a genius probably makes a whole bunch of sense to math savants. To the rest of us, it is gibberish and doesn't have any pretty buildings in it.
Compared to the Inception Blackboard: Less Awesome/More Confusing/Less Obsessive
I Heart Huckabees: This purely aesthetic, abstract blackboard, which hangs in Dustin Hoffman and Lily Tomlin's characters' office, looks great, but would be of no use if you were trying to break into other people's dreams. But most of us need cool wall art more than we need to break into other people's dreams.
Compared to the Inception Blackboard: More Awesome/Less Confusing/More Obsessive
School of Rock: The board on which Jack Black diagrams the relationship between all of rock music's subgenres in insane detail is probably the best blackboard that has ever existed. (You can get a closer look here.)
Compared to the Inception Blackboard: More Awesome/Less Confusing/More Obsessive
The Simpsons: Bart Simpson has lots, and lots, and lots, and lots, and lots of experience with blackboards. That said, none of the phrases he writes are particularly confusing (though we wonder how "l am not the reincarnation of Sammy Davis Jr." came about), and none of the boards in and of themselves are all that interesting. In toto, of course, Bart has put together a really impressive body of work.
Compared to the Inception Blackboard: Less Awesome/Less Confusing/More Obsessive