Vulture's Stupidest Things of Summer: Cramming Lots of Stupid Into a Short Week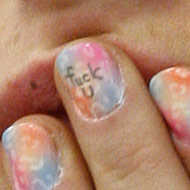 After the off-week that was last week, stupidity hunkered down, showed some heart, and came roaring back, doing impressively ridiculous work in just four days. Stupidity, don't ever let anyone tell you you're not resilient! Unfortunately, all this resurgent idiocy has brought us to the point — just five weeks into the summer, mind you! — at which the competition is getting so fierce that preposterous shenanigans can no longer crack the top ten. Take those teenagers who are biting each other and exchanging blood in some ludicrous simulation of Twilight. Really, truly stupid stuff that a few weeks ago would have been rewarded with a slot. But now, adolescents behaving like adolescents, which is to say, moronically, isn't special enough to merit a ranking. We're sorry, wannabe bloodsucking teenagers, the timing just wasn't right. The timing was right, however, for four other incidents of stupidity, who all debut on the list this week.
10. This Meet the Spartans spoof that combines Twilight, Jersey Shore, and Lady Gaga and, unpredictably!, creates something horrid!
1. This week, we had a serious crisis of confidence about the Vengaboys "Rocket to Uranus," which has been No. 1 since the list's inauguration. Is it truly, incontrovertibly, the stupidest thing of summer? Doesn't it feel a little light, lacking the broad, horrifying social implications of some of the other contenders? And then we reminded ourselves: This is the song-form of a joke that is now, as ever, extremely popular among 8-year-old boys. It might as well be called "Rocket to Your Epidermis Is Showing." And so it stays.
5. Mel Gibson. Boo. Hiss. It pains us to have to quote him again, so please see last week's list, entry No. 4, for elaboration.
9. Kyrah! And Ke$ha's lyric, "My steez is gonna be affected if I keep it up like a lovesick crackhead"!
10. This Meet the Spartans spoof that combines Twilight, Jersey Shore, and Lady Gaga and, unpredictably!, creates something horrid!
3. Let's spitball a little about Lindsay Lohan's courtroom manicure, the one with "fuck u" written in tiny letters on her fingernail. For a minute we were like, Is this an act of defiance directed not at the judge and court, but at us, the people looking at photographs of her and/or watching her get sentenced to jail via TMZ live stream? And if so, maybe we deserve it a little tiny bit? And then we realized even if this were the intention of the flick-off rendered in nail polish, it so obviously could be misconstrued — as it has been! — as being directed at the court that no one who had any respect for the court would risk doing it, which brought us back to square stupid: Writing profanities on your fingernails while going before a judge is arrogant, reckless, disrespectful, and extremely dumb! Did we mention disrespectful? Lohan, of course, says the whole thing had "nothing to do with court at all," because sometimes she says things that aren't true. While serving your jail time, Lilo, please consider updating your manicure to read, "Oops, that was idiotic and in poor taste and symptomatic of why I am now incarcerated."
Next week, be here, or be a little less aware of the stupidity going on all around you!

Photo: DAVID MCNEW/AFP/Getty Images