This Weekend's Concerts, From Mary J. Blige to Neon Indian
Plus: Wilco, Bon Jovi, Social Distortion ...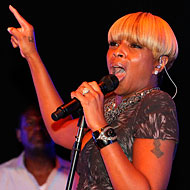 We're halfway through August, which means the end of the summer outdoor concert season is in sight. A sobering thought, to be sure, but while it's still going strong, let us celebrate the era of hodgepodge-festival-lineups and sunglasses (that are actually necessary) on stage. How? With another slideshow of awesome photos from awesome weekend shows, of course. In our latest installment: Ty Segall, Bon Jovi, Mary J. Blige, Neon Indian, Wilco, Exodus, Halford, Black Label Society, Pheonix, Jimmy Cliff, Weezer, Dave Matthews, Levon Helm, Jenny Lewis, Steve Earle, Dave Matthews Band, Social Distortion, Al Green, and Janelle Monae. Is that hodgepodge-y enough for you?!