What Celebrity-Penned Children's Books Tell Us About Their Authors
A cavalcade of kid-lit stars: Kathie Lee Gifford! Jay Leno! Jerry Seinfeld! Madonna!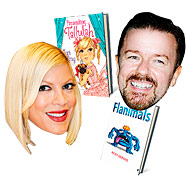 Nobody knows much about most children's book authors, and as such, reading parents don't bring anything to the stories except a love of peppy pictures and innocent text. Even a book as ubiquitous as, say, Goodnight, Moon, doesn't elicit knowing theories on why Margaret Wise Brown was so hung up with mittens and mush. Not so with the many celebrities who've penned children's literature. This month, Tori Spelling contributes her own entry to the growing genre: Presenting … Tallulah, a story about a beautiful girl who's rejected and misunderstood because of her parents's enormous wealth. Knowing so much about the personal lives of Spelling and other star authors, it's hard not to read their whimsical tales as either autobiography, subconscious revelation, or wish fulfillment. We read between the sing-song lines of Spelling's book and ten others.