Vulture's Mad Men Predictions: What Will Happen on TV's Least Predictable Show?
How will this season end?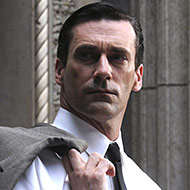 There are three episodes left and much at stake for the characters of Mad Men (caution: spoilers ahead!) — Don's under investigation by the feds, Roger lost the Lucky Strike account but hasn't told anybody, Pete has a kid on the way, and Joan's husband is away at war (plus, she's maybe still pregnant with Roger's baby). How will the fourth season end? We have no idea! But that certainly won't prevent us from baselessly speculating. Given Matthew Weiner's allergy to neat, predictable endings, we assume that our guesses are totally wrong. But maybe some lucky Vulture commenter — please chime in! We'll collect our favorite reader predictions in a post on Friday — will be right. Herewith Vulture's season-finale forecast for each of Mad Men's main characters.