A Field Guide to the Zombies of The Walking Dead
We use the original comics to show the different kinds of undead threats.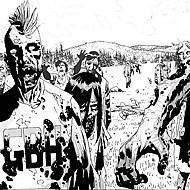 Premiering this Sunday night is AMC's zombie-apocalypse show The Walking Dead, the Frank Darabont–created TV adaptation of Robert Kirkman's graphic novels. And as we've learned in countless movies, though, not all zombies are created equal. George Romero's are generally the accepted standard for zombie behavior, but Kirkman took some liberties with his undead. So, if you should ever find yourself a character in The Walking Dead, what things would you most need to know? Herewith, Vulture's primer on Kirkman's zombies. Minor spoilers ahead!