Alec Baldwin Won't Star in Men in Black III, Will Take Singing Lessons
For his role in the 'Rock of Ages' movie.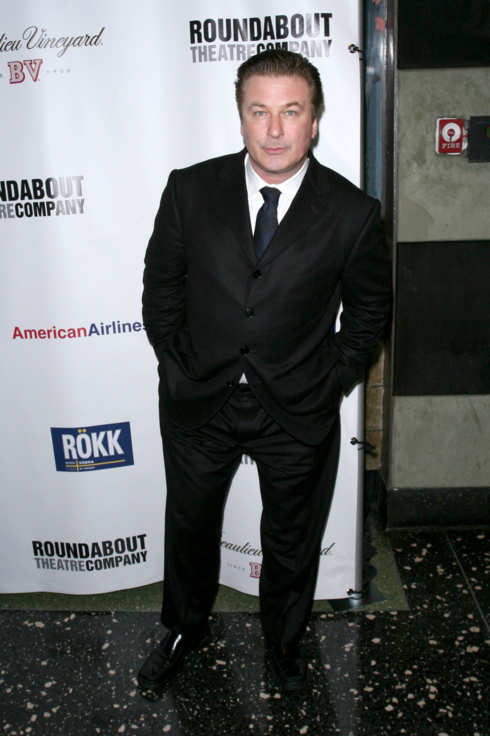 Alec Baldwin was fêted by the Roundabout Theatre Company last night, marking the second time he's been honored in recent weeks, and, he says, this kind of thing makes him nervous. "It really is something I don't enjoy doing. When they show clips of your career and photos of when you were young and beautiful, it's really tough," he said. "I love going to these things if it's someone else, so the trick to getting through it is you have to pretend it's about someone else." (Though Baldwin tried his best to make the night about others with his announcement that he'd be donating $500,000 to Roundabout Underground.) Mary-Louise Parker, who has known Baldwin for over twenty years, has a theory on why the limelight-loving actor dreads this kind of attention. "The big secret about Alec is he's actually a little bit shy," she said. "I think with most great comedians there is something shy." And Baldwin did demur when asked about the advice he personally offered to Charlie Sheen in the Huffington Post. "That's all I'm going to say about that," he said, with a smile.
But he was happy to chat with Vulture about his future projects, which have just been lessened by one: Baldwin says he's dropped out of the troubled Men in Black III production. "I'm not doing that. I'm out of it; the schedule didn't work out," he said.
However, Baldwin is enthusiastic about doing the Rock of Ages movie. "I'm excited to be able to work with Tom [Cruise] and Adam [Shankman]. I love Adam — he directed the Oscars when I hosted — but to do a movie with Tom will be fun." And yes, it seems Baldwin will do at least some singing in Rock of Ages. "I think they have us all sing something. I think I'm going to sing, thankfully, something very modest; I might sing 'Yeah, yeah, yeah,' or something like that." Cruise, he expects, will sing a big number in the movie. Baldwin hasn't yet seen the Broadway version, but will check it out in the next couple of weeks, and he plans to line up a vocal coach. "Does that surprise you that I would take lessons?" he asked. "You have to, you have to take it seriously." So will he dance, too? "No. It's not that kind of thing. It's not Glee, it's rock and roll."