Lil Wayne Explains the Fun Parts of Prison
Plus other highlights from his Hot 97 interview.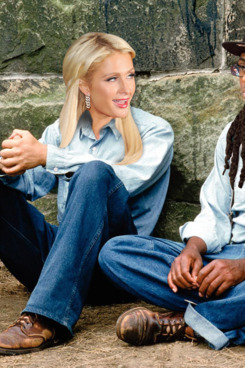 A highlight of any good hip-hop promo run is the free-flowing Hot 97 interview, where the D.J.'s are usually chummy enough with the stars they're interviewing to get a touch more personal. Lil Wayne still has a month and a half before the release of Tha Carter IV, but — probably more as part of his long-term post-prison reimmersion campaign than as an album push — he sat down with Hot 97's Angie Martinez last night. What revelations were, uh, revealed?
Our favorite bit was when Wayne was explaining weekend nights in prison: "On Fridays, we go to the club. You have a little AM/FM radio that you buy from commisary. That's when you [as in Hot 97] have a D.J. from the weekends, from ten to two, and sometimes they be live in the club. And we be in the club, too, 'cause we locked in our cell." Also, Nicki stole his beat for "Did It On 'Em": "I get in jail and all of a sudden I hear my beat come on. Ba na ba ba na. 'Who they gave the beat to?' And Nicki come on there. Oooh, I got on that phone [with Young Money's Mack Maine] so fast. 'She wanted the beat, I thought you said she could have it.' 'I said that?! We got fifteen minutes to talk and I said that?' I ain't gon' front, she killed it way harder than I could." Oh, and JWOWW's his favorite female Jersey Shore cast member: "When she go out, she throw them little dresses on ... she can get it." Finally, some illuminating insights into the creative process. Now that Wayne is court-mandated clean, "Creatively yes, it's harder," he explained. "But it's better. When I was on that level, I would go with anything. My anythings were good, so, thank God. Now it's just a lot more thought into it."
Audio: Hot 97′s Angie Martinez Interviews Lil Wayne [LilWayneHQ]