Marcel's Quantum Kitchen Contest: Win an iPad!
All you have to do is tell us about what you like to eat while watching TV.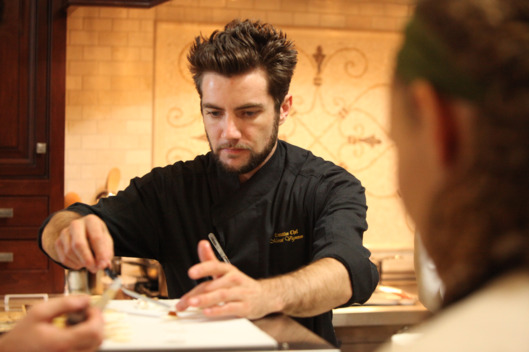 Top Chef alum Marcel Vigneron is many things: foam connoisseur, amateur rapper, advocate for using fish heads (why didn't Tiffany listen?), star of Darren Aronofsky's upcoming film The Wolverine (wait, that would be Hugh Jackman), and most important, the subject of SyFy's new show Marcel's Quantum Kitchen, which finds him calling upon his talents for molecular gastronomy to satisfy the clients of his new catering and event company. To celebrate the show's premiere on March 22, SyFy is giving away a free 16GB, 3G iPad (yes, it's first generation, but you need some retro cool in your life) to one very lucky Vulture reader, and all you have to do is suggest an amusing meal to eat while watching TV — perhaps there's an unusual-yet-perfect pairing of snack and sitcom you're dying to share? Leave your submission in the comments, and we'll pick the best idea when the competition ends this Sunday at 5 p.m. For complete contest rules, see here. Good luck! UPDATE: You've been upgraded, because the giveaway is now the new, second-generation iPad. Who needs retro cool, anyway?