Mario Batali Thinks Gwyneth Paltrow Is Faking It
He says Paltrow's "playing nervous" onstage while singing.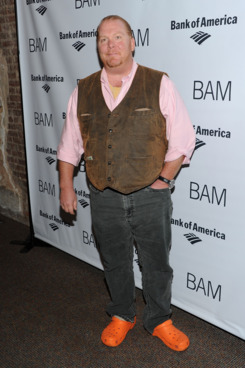 Okay, admit it, Gwyneth Paltrow might be annoying you a little bit right now. Not content with being just an Oscar-winning actress, or a hot mom of gorgeous fruit-named children sired by her rock-star husband, or a lifestyle guru who recommends $1,095 stiletto-heeled winter boots from Burberry as if they're things you could actually wear on your feet in snow, she has now taken over the record industry. It started off with her undeniably great cover of Cee Lo's "Forget You" on Glee, then morphed into performances at the Grammys and Oscars, and then this past week, she not only slayed Fleetwood Mac's "Landslide," Prince's "Kiss," and Joan Jett's "Do You Wanna Touch Me" in her second Glee appearance, but also allegedly signed a $900,000 recording contract with Atlantic Records. What? Yes. And what's more, as Gwyneth's good friend Mario Batali hinted to us last night at the Brooklyn Academy of Music's gala performance of Gogol's Diary of a Madman, Gwyneth is also incredibly good at knowing when other people are getting annoyed with her for being so incredibly good at everything. "I think it looked good that she looked a little nervous at the Country Music Awards," he told us. Wait, so she was faking the part where she blinked a lot while singing beautifully and flawlessly? "I thought she was playing nervous," Batali said, grinning. "She's a talented actress."