Maya Rudolph Joins Cast of Christina Applegate's NBC Pilot
Lorne Michaels is her boss once more.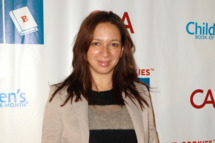 NBC's recently greenlit Christina Applegate comedy, penned by Parks and Rec scribe Emily Spivey, continues to get more interesting. Vulture has confirmed that former SNL star Maya Rudolph has joined the cast of the half-hour comedy. Per TV Guide, which first reported the casting a few minutes ago, she'll play the best bud and co-worker of Applegate's mom character. Lorne Michaels is executive producing the untitled half-hour, which is starting to look like a lock for NBC's 2011-2012 schedule.