Providing Pants for the Pantsless Pop Star: A Vulture Intervention
Britney, Rihanna, you're late to the trend. Try on some pants.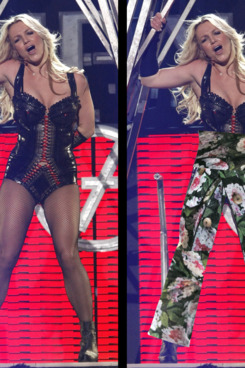 Among the many questionable choices made by Britney Spears during her Femme Fatale press tour, her recommitment to Public Pantslessness (see: the GMAs, her Out spread, and the "Hold It Against Me" video, among others) has been particularly vexing. Yes, Britney's taken the stage in underwear before (most memorably at those VMAs), but that was before the great Celebrity Pantslessness Epidemic of 2010. Gaga wannabes have been rocking haute-couture bikini bottoms for a year now, and the leotard-only look is out. Or so we thought, until Rihanna chose this week to appear on the cover of Rolling Stone in ripped "metal mesh shorts" that more closely resemble a loin cloth or a fanny pack. Can the No Pants Look really be happening again? Vulture thinks (hopes!) not, and so we decided to help the many desperately off-trend celebrities still gallivanting around in their underwear as best we could: by designing them pants! Awesome, age-appropriate, mostly floral pants. Wear them proudly, ladies.
BEGIN SLIDESHOW