10 Possible Charlie Sheen Replacements Who Might Get Us to Watch Two and a Half Men
Molly Ringwald. You're so there.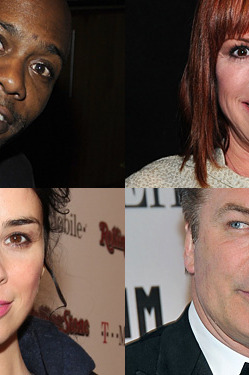 Charlie Sheen's been fired, but Two and Half Men has yet to call it quits, and the only way for CBS and Warner Bros. to keep their cash cow on the air is to find a suitable replacement for Sheen. Some names have already been bandied about (John Stamos, Rob Lowe), but we find these suggestions lacking the necessary ambition. Despite its wild popularity, Two and a Half Men is a truly mediocre sitcom, one that isn't going to become funny with the addition of just any old competent, non-drug-addled leading man. (Sheen wasn't writing this thing, after all.) No, for the show to become even incrementally more amusing, it needs to consider some outside-the-box candidates. We have ten suggestions for possible Sheen replacements, actors we think might elevate the show — or, at the very least, get us to tune in for an episode.
Related: Is Charlie Sheen Turning Into Saddam Hussein?
Four New Reveals From the Letter That Fired Charlie Sheen
Charlie Sheen Fired From Two and a Half Men
Sheen's Korner Is Not a Winner
The Argument You're Having With Yourself About Charlie Sheen
The 15 Funniest Charlie Sheen Clickables: Laugh While You Still Can!
The Media Betting on Charlie Sheen Dying Soon
BEGIN SLIDESHOW