Coachella in Photos: Crystal Castles, the Kills, Wiz Khalifa, and More
Plus: Cee Lo Green, Arcade Fire, Cage the Elephant, Chromeo, Best Coast, and more, in our weekly concert roundup.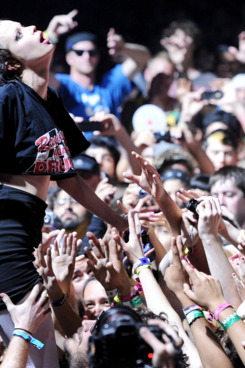 Over in the world of pop music, the 2011 Coachella Music & Arts Festival dominated the weekend. Vulture has already alerted you to some of the highlights, including Cee Lo's sound issues, Kanye's triumphant set, Lil B's interesting new album title, and Arcade Fire's balls. Also, our sister blog The Cut found a bunch of celebrities hanging in the desert. And to cap the Monday After Coachella off right, we leave off our coverage with — what else? — concert photos. Click through to see Robyn, the Kills, Best Coast, Crystal Castles, Wiz Khalifa, the Strokes, the National, Chromeo, Duran Duran, Little Boots, and many more.