Why Darren Criss Loves Glee's Gay Bully
In real life, that is.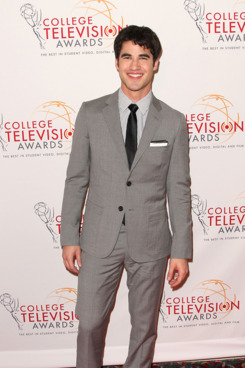 On tonight's episode of Glee, Darren Criss and Chris Colfer's characters once again clash with the gay-bashing bully Karofsky, played by Max Adler. In real life, however, Adler is Criss's favorite on the set. "In fact, any time I have a scene with Max I can't keep a straight face. It's impossible," Criss told Vulture at a DeLeon Tequila–hosted screening of Sympathy for Delicious last night. Also keeping him in stitches on the Glee set is Dot Jones. "So that's Coach Beiste or Karofsky. They crack me up." Glee is currently filming its season finale in New York, but Criss claimed not to know whether any character loses their virginity on prom night. "Is that where the audience's head is at? I have no idea. Maybe!" he said.
In addition to the Glee concert tour, Criss says he'll be busy during the show's hiatus. "I don't take breaks. I'll be working," he said, laughing. But he has no movies on the horizon at the moment. "I'll probably be writing. I run a theater company out of Chicago, and we just closed our fifth musical, so I'll probably be working on that, developing our next project. I'm sort of like the musical-creative person there, the resident composer, so I'll be, you know, revamping old scores or making new ones potentially. Or doing my own tour — you know, I was a musician before Glee, and Glee has kind of made that career take a backseat, so I'll maybe tour around my record that came out back in July."