Street Artist D*Face's Guided Tour Through His 'aPopcalyptic' Work
The man dubbed "the next Banksy" exhibits his dark take on fame and all things celebrity.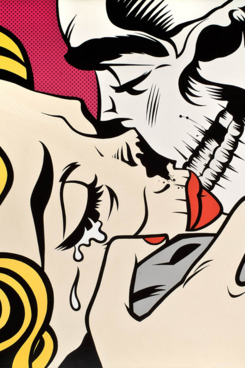 D*Face, the U.K.-based street artist, has frequently been touted as the next Banksy, but he waves away the comparison. First of all, he's not as clandestine as Banksy; D*Face allows photographs to be taken of him, though always with something covering his face, be it glasses or a scarf. But he also differentiates his approach: A refugee from the world of advertising, the thirtysomething D*Face (real name Dean Stockton) defines his work as "aPopcalyptic": a satirical look at consumerism and our obsession with fame, pop culture, and all things celebrity. And where better to exhibit his dark take on these topics than Los Angeles? The artist's first West Coast solo show, "Going Nowhere Fast," just opened at L.A.'s Corey Helford Gallery and will be up through mid-May. This multimedia exhibition includes paintings immortalizing decaying versions of Andy Warhol and Michael Jackson, a headstone for Charlie Sheen, and the pièce de résistance, a painting of the Hollywood sign, singed and burned and sitting atop hundreds of skulls. Click on to see some of his most provocative work from this show, all explained to Vulture by D*Face himself.
BEGIN SLIDESHOW