In the End, Not Many People Watched The Kennedys
Still, ReelzChannel has to be happy about all the attention it got.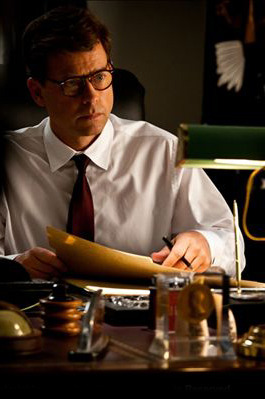 The final votes are in, and despite months of controversy, The Kennedys — dropped by History and picked up by ReelzChannel — turned out to be something of a non-event in terms of ratings. Sunday's two-hour finale ended up being the Nielsen high point for the Greg Kinnear–led mini-series, with 1.4 million viewers watching the 8 to 10 p.m. telecast. That's about 100,000 more than the tune-in for the April 3 premiere. The three installments between the debut and finale were far less successful, however.

Night two of the mini drew about 841,000 viewers; night three 806,000 and night four just 737,000. The Kennedys also skewed very old, with the finale only earning a 0.3 with viewers under 50 (slightly fewer viewers than an episode of 1000 Ways to Die on Spike). Still, it's worth noting that Reelz is in about half as many homes as the biggest cable networks, limiting the audience for The Kennedys. The mini's debut and finale also set ratings records for the channel, and when you add in the numerous replays during the week, millions of folks who had likely never even heard of Reelz until recently were exposed to promos for the network's sometimes movie-centric programming. Add in the tons of free media coverage Reelz got for its acquisition — including an SNL sketch this weekend, tweaking the network as the home of shows nobody else wants — and it's likely nobody at Reelz is feeling that bummed that The Kennedys wasn't exactly a ratings monster.