Jennifer Lopez Got a Lady Gaga Song
Hear the Gaga-produced "Hypnotico."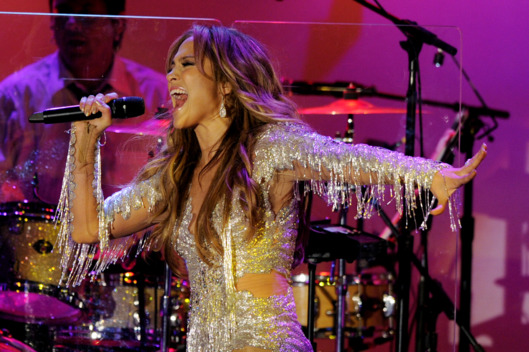 "Hypnotico," J. Lo's latest musical offering, was written by Lady Gaga and her producer RedOne, and you can sort of tell (mostly during the blunt "hypnotic / notico" parts; that seems like something Gaga would enjoy chanting). That doesn't mean it's an instant hit, though: Bland and half-baked ("we're just some silly heartbreakers tonight"?), it was certainly farmed out for a reason. So will this revive Lopez's singing career to its "Waiting for Tonight" highs? No, probably not. Here's the question, then: With the other facets of her multimedia empire clicking — J. Lo's got the Idol gig, of course, and will soon branch out on her own with an insane-sounding musical competition show — why does she insist on continuing to make music? Why not sit back, relax, and enjoy the fact that there is something that you do that people like? Basically: Why make music when you are a multi-hyphenate walking corporation and that division of your business holdings is no longer viable? Why, you ask? Well, one can only assume, Jennifer Lopez keeps making music because Jennifer Lopez actually loves making music. And that's admirable.
Hypnotico - Jennifer Lopez by HDMI44