Here's the Rob Lowe Dancing GIF From Last Night's Parks and Recreation
Behold, the patented "Seizure in the Club" move.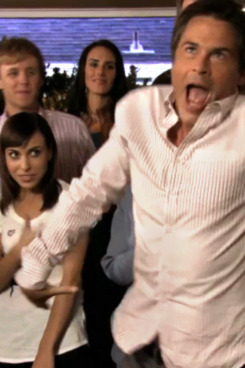 As has been thoroughly discussed elsewhere, last night's Parks and Recreation contained a number of heartwarming moments (plus a great dead bird joke we feel deserves an extra mention). It also contained a hilarious and imminently GIF-ready dance routine by eterna-spaz Chris Traegar (Lowe). Where Vulture sees a need, Vulture must act. And so, without further ado, here is Rob Lowe doing his best "Seizure in the Club" move. Never in the history of dance has a shoulder roll lent itself so well to endless looping.