Get Ready to Like Tom Arnold
Chuck Lorre still fantasizes about killing him, though.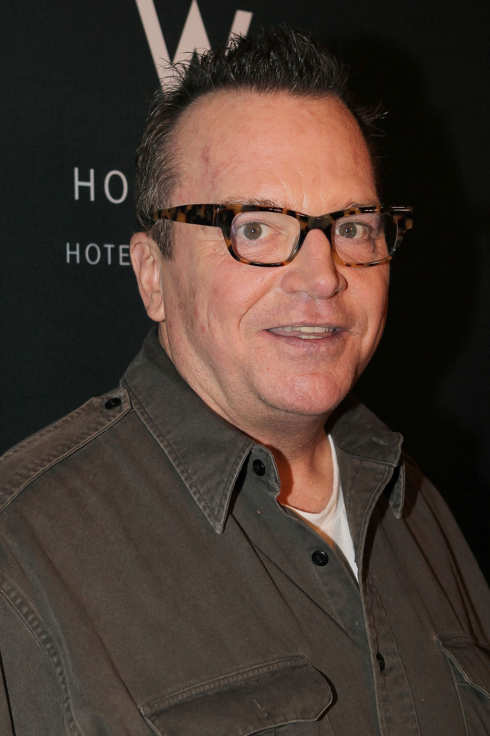 Tom Arnold's revealing "Random Roles" interview over at the AV Club shows a thoughtful, warm side to the comedian and actor — self-aware, genial, and very, very open with anecdotes and opinions. Like ...

His ex-wife Roseanne Barr gives awesome career advice: "She said, 'When you enter a room, enter like it's your room, dick first.' I always thought of that, and I still sometimes think of that."
He still reflects on the great Julia Louis-Dreyfus Parking Spot Debacle of '94: "I went out and we had this stupid skirmish where Julia Louis-Dreyfus told me how offended she was that I wrote a nasty note, and I told her how offended I was that she parked in my spot or whatever, and then Roseanne took a picture of John Goodman's ass and put it on her car and in soap wrote 'Julia Louis Dry-puss.' Very, very mature, very adult." (The Seinfeld people tell their version of the story on the DVDs from season four. )
He fired Chuck Lorre from Roseanne, and Chuck Lorre apparently still hates him: Arnold thought the two buried the hatchet, but then the writers for Two and a Half Men did an episode of CSI, "and the episode was about a sitcom star and her crazy drugged-up husband, boyfriend, and I was like, 'Chuck, why would you do that? I thought we were friends!' He goes, 'It could be anybody, it could by Cybill Shepherd's boyfriend, it could be Brett Butler's boyfriend.' I go, 'Well name them, because people are calling my publicist saying. 'What does Tom think of Chuck Lorre writing an episode of CSI about him?' So I said, 'Chuck at least say it's not about me,' and he said no, so fuck him, fuck him."
Tom Arnold was really into General Hospital: "All [Roseanne and I] wanted to do was be in scenes with Luke and Laura, because I'd gotten into it from college, we watched it every day in Iowa, and it was such a part of our lives."
Hugh Grant called him right after getting caught with Divine Brown: "I was on the phone with my publicist, who was like, 'Oh my God, did you hear what happened to Hugh Grant?' Because I'd just left him and flew up to Toronto and I was like, 'What happened, did he die?' I was in shock, and she was like: 'Worse.' But my question was: man or woman? Because I knew him, and she was like, 'I can't tell, I'm looking at the TV and I can't tell.' Then Hugh actually called in on my phone, it beeped in and he was like, 'Bloody hell!' I'm like, 'Man or woman?' He goes, 'I can't tell.' But he's a very nice guy."
Filming Soul Plane was a good time: "That was a fun shoot. Very smoky, very smoky shoot, but I love Snoop Dogg and all the guys. That was as much fun as you can have on a film set."
Tom Arnold: Secretly fun?
Tom Arnold: Random Roles [AV Club]