Bono Thinks Those Atrocious Spider-Man Reviews Were Spot-on
"We don't disagree with the New York 'Times.'"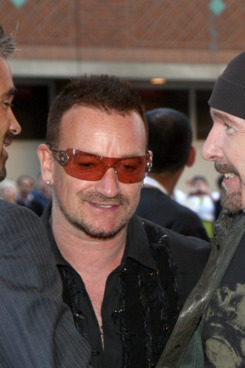 Lots of credit due right now to Bono: In his first big interview since canning Julie Taymor from Spider-Man: Turn Off the Dark, he gets endearingly honest about how bad he screwed up. Speaking with Nightline in this clip, Bono admits he and the Edge were way too inexperienced to try to put on a show like this: "We really should have known that this is an incredibly difficult thing that people on Broadway do every day. And we had a lot to learn. You know, it was a lot to learn. We were way out of our depths. And that's, I suppose, the hubris that we deserve. To think that we could do this ... We thought because it was Julie, and whatever, we could probably just learn at her side. But I think missing a creative strong producer early on, you can probably put everything down to that."
Then, in the clip here, Nightline anchor Cynthia McFadden reads off some painfully negative reviews, and Bono answers with, "That's the sort of stuff we were saying backstage ... we don't disagree with the New York Times." He doesn't completely throw Taymor under the bus, though, saying, "Julie would not accept this but she got very close to it, so close perhaps that she couldn't see it ... we could see very clearly what we thought were the problems. The last version of Turn Off the Dark had a lot of magic and mysterious stuff. It was beautiful, actually, in so many ways. It just didn't cohere. This time you have a really clear story line." By the way, they've spent another $5 million on the new version, bringing the budget up to $70 million. So: Even if it means retiring our Spider-manpocalypse tag, Vulture sincerely hopes this all works out.
'Spider-Man: Turn Off the Dark': U2's Bono Says He Agreed With Bad Reviews, But the Troubled Musical Has Revived [ABCNews]