Insides Cannes' Most Glamorous Event: Freida Pinto, Gwen Stefani, Bar Refaeli, and More
The amfAR benefit drew a fancy crowd, and at least one 'Slumdog Millionaire' superfan.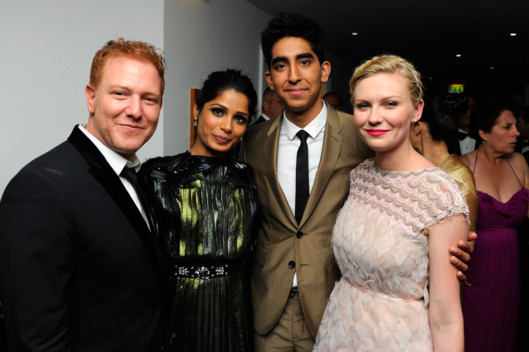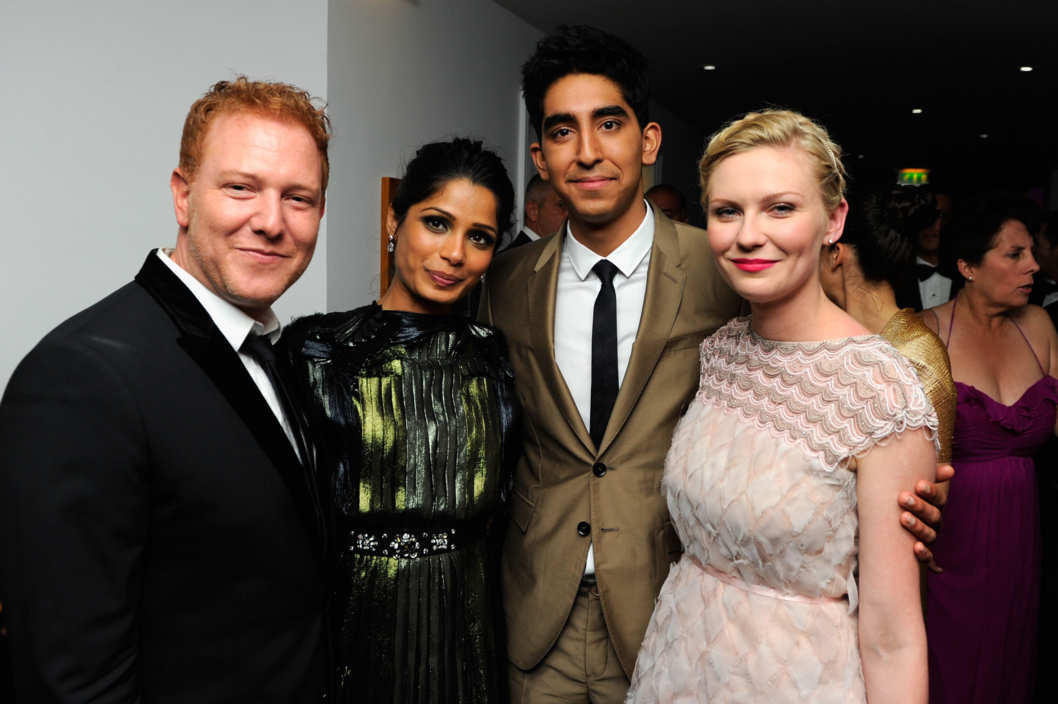 The annual amfAR benefit at the ridiculously gorgeous Hotel du Cap d'Antibes, twenty minutes outside of Cannes, is generally known as the most glamorous event of a film festival so concerned with glamour, even the paparazzi chasing down C-list European reality stars along the Croisette are required to wear tuxedos. But no matter how well-dressed, the rich and famous are no match for Cannes traffic, and in particular, the limo-lock created by so many of their kind trying to get to the red carpet on time. Bar Refaeli, recently split from Leonardo DiCaprio (who was also in town, but showed up to a ton of events looking incredibly informal and a little out of it), says at some point she just ditched the limo and walked. "It's fine. I had a lot of energy," she said. Gwen Stefani, meanwhile, could be seen on the steps of the entrance demonstrating to friends the elaborate bath-taking technique she had to employ in order to avoid reapplying makeup after a day of press and still make it to the event in time. When a photographer asked if he could take her picture with the manicured French garden in the background, she replied, "Hell yeah, I didn't put in all this effort for nothing."
Michelle Rodriguez, in a gown covered with jewels, recalled learning the hard way about Cannes' rules for formal dress. "I learned my lesson really quick that you have to be respectful. I went to the Palais to see a Kurosawa film and I wore this beautiful lace French dress, but I had these combat boots. They almost didn't let me into the Palais!" But there were no such issues of informality at this benefit, which rivals the Oscars and the Met Costume Institute Gala in terms of pure glamour. "I think people dress up so much because there's a common focus and people aren't trying to beat out other people, they're here because they're actually using celebrity for a positive and it's less about them or me or us, and it's about something bigger," Brooke Shields explained. Or, as Milla Jovovich put it, "When you're a public figure, you want people to watch and recognize and be educated. And the best way to educate people is to put a pretty girl in a sparkly dress in front of a camera and have her talk. It's our job."
Also part of the job: mingling with the millionaires and billionaires who'd paid big money to get in. On a walkway along the water, we saw Dev Patel and Freida Pinto get ambushed by a man who seemed to be a Bavarian businessman. "You were in the movie together and now you are here together!" the man said. "Yes, we're a couple," said Patel. "Oh my goodness!" said the man. "You are the most interesting couple here!" He called over his friends, "Look at this! They met on the Slumdog Millionaire and they fell in love!" He called over more friends. "They met and they fell in love!" He turned to Patel again, "I loved that movie. Especially the part where you fell in the shit," he said, referring to the point when Patel's character as a young boy jumps into a latrine. "Ah, that wasn't me," said Patel, laughing. "We only had four months to shoot the movie, so I didn't have time to grow up."
Inside a giant tent, guests settled into dinner, and a live auction that ultimately raised 10 million Euros (an all-time amfAR record) commenced. Much of it was thanks to the auctioneer, who cajoled guests with gems like, "This watch is sleek, it's sexy, it's a bit like Jane Fonda ... for God's sake, it's the most beautiful fucking watch in the world!" At some point, a photograph of Mick Jagger's back went from a bid of 400,000 Euros to one million with a single wave from a very rich man. At another point, the auctioneer tried to sell a vacation to two bidders for 190,000 Euros each, and they both refused and kept bidding until it sold for 240,000, times two. At the end, in order to reach the record 10 million mark, Sean Penn urged all the women in the room to refuse their men sex unless they each ponied up another 10,000 Euros to fill the 200,000-Euro gap needed to reach the record. Harvey Weinstein was the first to bid, apparently wanting to make sure he got some action that night. Then Courtney Love and Boy George performed. "It's a song about drugs, which I would appreciate you not telling anyone I know anything about, because it's a very big secret," said Love, starting off her brief set.
Afterwards, guests funneled out to an after-party on a deck overlooking the sea. Rosario Dawson said she'd spent her whole trip to Cannes partying just like this. "I was like, 'I'm going to watch movies!' And so far I haven't seen any," she said, without a hint of guilt. She'd spent the previous night dancing barefoot on Roberto Cavalli's yacht, and that day jumping into the ocean from Diesel chief Renzo Rossi's yacht. Dawson said she'd done the whole going-to-movies thing at Cannes before, but "this way is better, actually. Not to encourage too many people to do that. But I have to say, there are a lot of people that don't have movies, I've noticed. This is the most full Cannes I've ever witnessed. I think just the recession's hit really hard and no one's really working, so everyone's here just having a good time. Because there's a lot of fashion stuff here, so people are here for the fashion as well. I don't know, there just seem to be a lot of people here having a really good time. And I have to say, when you're here for a movie, it's so stressful and you're worried about them booing or whatever sort of stuff, and this was just the most relaxed Cannes ever. That's because everyone's looking for a job. They're looking for acting distribution."
And as the night wound down, the rich and famous and beautiful gathered on the dock to be ferried to either one of the sixteen yachts docked nearby or to a private villa party Naomi Campbell texted them about. That is, all the guests besides Karl Lagerfeld. "I hate boats," he'd told us earlier. "I like only cars. And private planes."