Ethan Hawke Is Not Optimistic About Exit Strategy's Chances
"I'd be surprised if anyone ever sees that show," he says of his Fox pilot.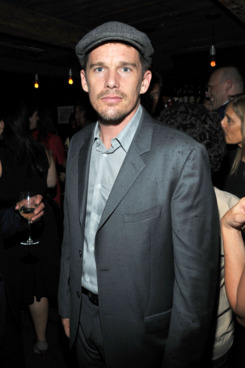 Prior to upfronts, most pundits assumed that a series order for the Fox pilot Exit Strategy was a sure thing: After all, it would be Ethan Hawke's first television show, and the action drama followed an elite rescue team similar to Seal Team Six, the group that killed Osama bin Laden. But when the fall schedule was announced, Exit Strategy was nowhere to be found. What went wrong? "I have no idea. I'm just as in the dark about it as anybody else," Hawke told us last night at the after-party for the Off Broadway play Knickerbocker. Deadline reported that the show might undergo some revisions for mid-season contention, but Hawke wasn't very hopeful. "I don't know what any of that means, 'retooling it,'" he said. "I doubt it. I'd be surprised if anyone ever sees that show. I really don't know about TV. I have no idea. It's all new to me. It's a total mystery." Still, at least there's one thing Hawke can promise you'll see next year: His cameo in the remake of Total Recall (starring Colin Farrell), which he's shooting next week. "[I've got to] leave the party. Learn the lines. It's a five-page monologue ... Yeah, it's great. It's really good." His role in the film has been shrouded in mystery — is he playing a character we might recognize from the first film? Hawke just grinned mysteriously. "I don't know ... "