Inside Fox's Upfront Party: Cory Monteith, Jonah Hill, and the Simon Cowell Photo Booth
Which 'Glee' stars went out of their way for a picture with Simon?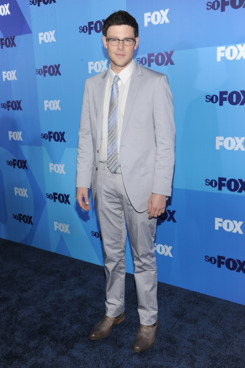 Not even Monday's torrential rain stopped the fun at Fox's upfront party at Wollman Rink, where ad buyers and journalists congregated under a dry tent for barbecue, sushi, pasta, and to watch the network's stars pop in, head to their appointed staging areas to meet and greet the advertisers and pose for photos, and then be whisked right out again to waiting cars. The Glee cast had a large crowd awaiting them, but it came in second to the throngs gathered at the adjacent X Factor photo station where Simon Cowell and Paula Abdul held court. At one point, Matthew Morrison and Chord Overstreet abandoned their duties, to the confusion of their castmates, and dashed over for photos with Cowell and Abdul. 
Very soon, the Glee cast swept out through the tent flap, off to see Morrison perform at the Hard Rock Café, but Vulture managed a chat with Cory Monteith as he made his way to his car. Unlike some of his castmates, the Canadian hasn't spent much time in New York, and he described shooting the season finale here as one of the most intense, amazing, challenging, and rewarding experiences of his life. "While shooting in the city," he said, "I think it was interesting that there was a minimum of about a thousand people following us everywhere we went, at all times at all hours of the day. It was go-time all the time."
As for odd requests from fans, Monteith recalled an incident during a promotional event where with the purchase of a T-shirt one got autographs. "A fan bought the shirt the day before, and the next day when she came to the signing, she had sewn the T-shirt into a onesie for her infant child, and had us sign her baby," Monteith said. "It's odd, but cute." 
Jonah Hill, whose animated show Allen Gregory will debut this fall, explained that the show came about when Fox asked him to do a voice for another animated series. He figured they'd never pick up a show he wrote if they already had him. "And I went, 'Hang on.' And I went over to Jared Paul and Andy Mogul, my co-creators and co-writers of the show, and said, 'Let's make an animation pilot.' So we sat around for a few days and we came up with the most pretentious 7-year-old to ever hit the face of the earth," the newly svelte Hill said, laughing. They wrote the pilot quickly and, he says, though there were several offers, they decided on Fox. "I learned about comedy through The Simpsons; I'm a total product, comedically, of The Simpsons," Hill said. "Now look at us; I mean, it's a dream come true. I'm on between The Simpsons and Family Guy. I grew up worshipping The Simpsons and still do. I get emotional thinking about it."
Across the tent, the actors from Raising Hope were goofing around, posing in strange positions and making faces every time a camera flashed. Martha Plimpton said that Garret Dillahunt, who plays her less-than-bright husband Burt on the series, is the funniest person she's ever met. "Let's put it this way, I have some very funny friends, some of the funniest people in the world who make me laugh, like I spit my food out they're so funny," Plimpton told Vulture. "But Garret Dillahunt is the driest, most covert-action funny; he's the Seal Team Six of funny." So is he so funny because he's, uh, as dumb as his character? "You can't play dumb and be dumb," Plimpton declared. "Rodeo clowns have to be smart to do what they do. You know, Garret is … he is that funny."

Spotting Dillahunt chatting with partygoers nearby, we asked him how he nails his character's stupidity. "Turns out, I'm kind of a moron, so it helps out," he shrugged. No, really, we insisted, Martha just told us you're really smart. "Uh, who said that?" he asked. Martha Plimpton, we repeated. "Oh, thank you. I, uh, have no idea. I just kind of go with it. It's easier for some people, maybe I'm a little slow."