James Franco Says He Isn't As Busy As You Think
He also chats about that Brad Renfro carving/tattoo.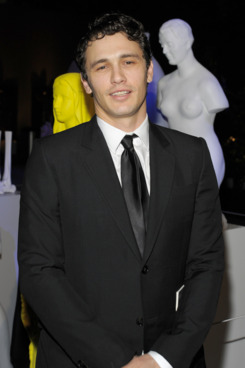 It seems like every day brings word about a new project that James Franco is attached to star in, adapt, or direct, so when we ran into the actor last night at a dinner hosted by VW, MoMA, and MoMA P.S. 1, we asked him how he finds the time in his famously crowded schedule. Turns out it's not as crowded as you think, claims Franco — especially when it comes to his directorial endeavors. "I've acquired rights to a lot of books that I admire and want to make, but it doesn't mean that I'm making them all this year," he said. "So, um, truly, because certain outlets like to report things that aren't true, it seems like I'm doing more than I am." He was happy to confirm one rumor, though: For a new art project, he did indeed carve Brad Renfro's name into his shoulder. Did it hurt? "Uh, no." Won't it be hard to cover it up when shooting movies? He laughed: "I see my shoulder, like, once a month."