J.J. Abrams Is Still Really, Really Into Mysteries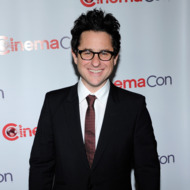 Abrams's personal suite of offices is on the second floor, and the befuddlements persist there. A green phone with no dial face or digits to press connects him directly to his wife's BlackBerry. To get to his bathroom, you have to walk up to a wall of bookshelves beside his desk and tug on a copy of "Louis Tannen's Catalog of Magic" (named for the same Manhattan magic shop, still around today, where he got his childhood mystery box). Abracadabra: the wall opens. The toilet is revealed.
Not just any toilet! A mystery toilet.
Photo: Ethan Miller/Getty Images