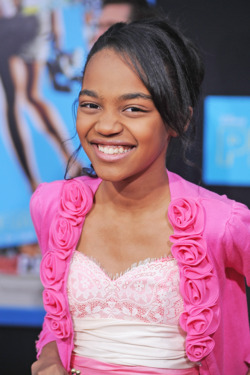 Meet Your New Disney Channel Star, America
Disney is prepping a new tween queen, and this time, it's gonna be different! Oh, China Anne McClain, all we can say is: good freakin' luck.
This breathless profile of the 12-year-old up-and-comer positions her as some kind of impervious talent machine. "Gary Marsh, the president of entertainment for Disney Channel, said that his gut told him that Ms. McClain would be different," although it's not clear why exactly that would be. "Her parents are also warm and loving and caring and involved," Marsh told the Times. "You would be shocked to know how often the opposite is true."
Well, not if the Grey Lady's profiles of these teen-girl stars are any indication.
So, China Ann McClain, good luck with your Disney Channel show A.N.T.. If history is any indication, you have a few years of glowing coverage ahead of you, some kind of scandal in which you're perceived as overly sexual, and then it's time for another profile of another tender sweet young thing that somehow paints you as a tragic figure in the tween canon. Enjoy childhood fame while it lasts!
Photo: Frazer Harrison/Getty Images