NBC Picks Up Four New Comedies
Hank Azaria, Amanda Peet, and Laura Prepon all have new shows.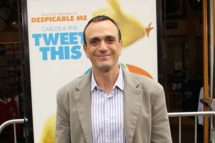 NBC has picked up four more comedies for next season: Bent, Free Agents, Are You There, Vodka? It's Me, Chelsea, and BFFs are all joining the Peacock family. Bent stars Amanda Peet as a divorced single mom who starts to fall for her "surfer-dude" contractor (Perfect Couples' David Walton). Free Agents, an adaptation of the British dark comedy of the same name, stars Hank Azaria and Kathryn Hahn as two PR executives who are both on the mend after failed relationships. Vodka is an adaptation of Chelsea Handler's memoir and stars Laura Prepon as the titular boozer, and BFFs stars Jessica St. Clair as a pushy friend who moves in with her, yes, BFF and said bestie's boyfriend.