The Voice's Ratings Rise: Could NBC Actually Have a New Hit?
It's the only new show this season to add viewers in week two.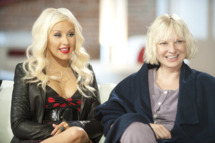 It's a good thing J.Lo and Steven Tyler nailed down their People covers, because the way things are shaping up, NBC's The Voice could soon be taking up a big chunk of the pop-culture oxygen. Tuesday's second episode of the singing competition drew 12.4 million viewers and scored a 5.6 rating with folks under 50, a 10 percent increase in the latter category. The Voice was TV's No. 1 show in the key adults 18 to 49 demo, beating out NCIS, Dancing With the Stars, and the increasingly shaky-looking Glee. More impressive, NBC's late-season singing upstart is the only new series this season to show ratings growth in its second week. With new Peacock chief Bob Greenblatt set to unveil a new fall schedule to advertisers in less than two weeks, the timing couldn't be better, since this gives the long-troubled network a seriously strong ray of sunshine to show off to advertisers. In the meantime, expect NBC to announce a second season of The Voice any second now and reporters to start mulling stories about whether this show is a serious threat to either American Idol or the upcoming The X Factor.