The Voice Will Get Next Year's Prime Post-Super Bowl Slot
Does this mean Xtina gets a second crack at the national anthem?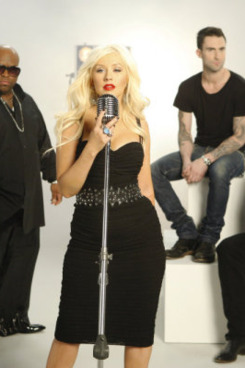 The first season of NBC's The Voice hasn't even wrapped yet, but the Peacock is already making big plans for the second cycle of the show: It just announced that it plans to air an hour-long episode of the singing competition following Super Bowl XLVI on February 5. For now, NBC is carefully labeling the event a "special episode" rather than the season premiere. That may be because the network is leaning toward premiering Voice sometime in January rather than waiting until the big game, in part to get ahead of Fox's American Idol (which will begin its new season January 22, following the network's broadcast of the NFC championship). "I'm not sure we want to wait that long to bring back The Voice," Peacock boss Bob Greenblatt told Vulture earlier this month. NBC still has months to determine whether to make the postgame episode the premiere or just a regular hour, but by announcing plans now for some sort of Voice presence on Super Sunday, the network's sales team can start selling ad time on the show at a premium rate. Also: Xtina and Cee Lo now have plenty of time to figure out which color football jersey they'll inevitably wear in NBC's promos for the post–Super Bowl episode.