2 Broke Girls Gets Post–Two and a Half Men Premiere Slot
CBS, walking on the wild side.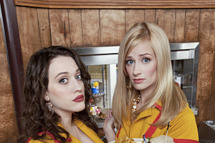 CBS announced its premiere schedule today, and it includes the not-altogether-surprising move to launch 2 Broke Girls after the season premiere of the revamped Two and a Half Men, instead of giving that slot to the season premiere of Mike & Molly. (The following Monday, September 26, the schedule is back to normal: How I Met Your Mother, 2 Broke Girls, Two and a Half Men, Mike & Molly, Hawaii Five-0.) Broke's mutli-camera format and salty content is actually a pretty good fit with Men, though surely other people are bothered by the fact that one show spells out "two" and the other uses a numeral. How can CBS stand it?