Take a Rare Glimpse at Chinese Dissident Artist Ai Weiwei's Early Photos of New York City
Right after he was released from a Chinese prison, his early photos are being exhibited in New York.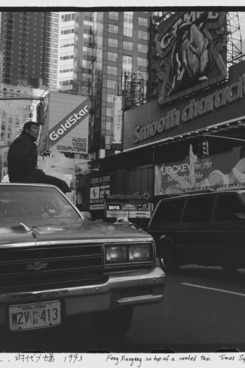 You can see the newest artwork by Ai Weiwei right now at the southeast corner of Central Park, where his Circle of Animals/Zodiac Heads was unveiled last month. Ai, however, did not make it to the opening, having been jailed on tax-evasion charges by the Chinese government, a detainment condemned as groundless and politically motivated by the United States. (He was released last week, and ordered to pay nearly $2 million in taxes and fees.) What is not widely known is that this dissident artist spent a significant part of his career in New York, living and working in the East Village from 1988 to 1993. There, on the fringes of the Basquiat-Koons-Haring scene, he communed with other expat Chinese artists and explored his neighborhood and the city with a 35-millimeter camera. From today through August 14, Manhattan's Asia Society Museum is showing 227 of his photographs from that period, curated to lay bare his fascinations, experiences, and attitudes at the time — and, in the process, drop you back into the grimy East Village of not very long ago. Vulture is proud to feature six of these vintage shots.
BEGIN SLIDESHOW