F-cked Up Sweat Off Their Shorts at a Secret Brooklyn Show
The Toronto hardcore champions beat the heat.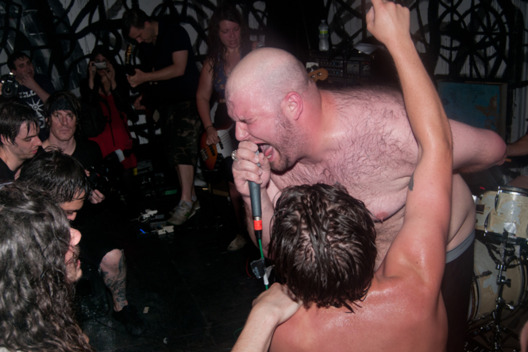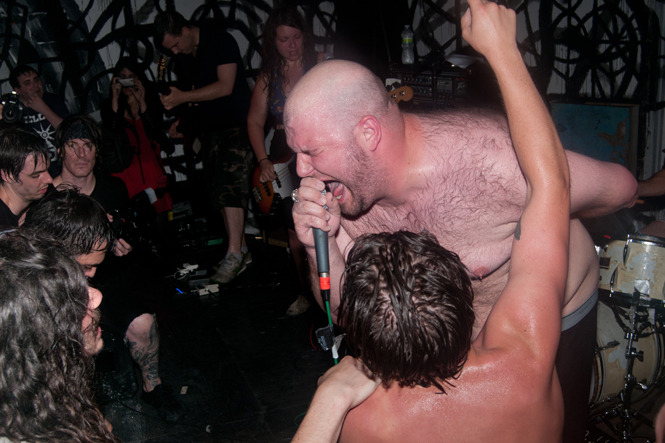 Here's plus-size Fucked Up front man Damian "Pink Eyes" Abraham, toward the end of his band's set in Brooklyn Saturday night: "I'm gonna be honest with you — I think my heart's gonna explode." And he certainly wasn't the only one! The venue — 285 Kent, a big graffitied room with one little lonely air-conditioning unit — was hotter than the Basra marketplace on a particularly bustling August morning/a sweat lodge operated by a rookie administrator/the original side of the pillow/[insert your own!]. Mass exoduses and repatriations took place between each set; after the show (to which Fucked Up was originally billed, alongside openers Iceage and JEFF the Brotherhood, as 'secret guests'), the desire to remove one's shirt and wring it out like a towel was hard to resist. But inside the room, the comically oppressive environment felt just right.
The Toronto hardcore champions are big enough to open for Dinosaur Jr. at Terminal 5 (as they did last week), but the tiny, hellish confines of 285 Kent still make more sense for their anthemic punk jams. At one point, in between the requisite manic body flings and vocal-shred-alongs, Abraham dropped his mike, picked a dude up, and twirled him around as if he were about to attempt a piledriver. Being the kind of nice Canadian fellow who makes sure everyone's getting enough water, though, Abraham, of course, did not actually harm anyone, instead setting the guy down gently before returning to the stage for more adorable banter. Like: "I gotta say, I like playing New York better than Toronto. But Toronto's got one thing you don't: my wife and my kid. You're cute, you're cute, you're cute, you're cute" [each "cute" punctuated with a point to someone in the crowd] "but my kid is cuter. You know how much I could get for him on the black market?" Also: "I accidentally shaved off my beard. I went to trim it and put a hole in it. Let's vote: Who thinks beardo the weirdo looks better? Who thinks giant man-baby looks better?" And, later — once he'd worked his way down to nothing but basketball sneakers and boxer-briefs, and he and his band had made it clear that they were fully intent on rampaging through their personal sweat monsoons — a last bit of self-deprecation: "I am too fat for this kind of physical activity."
Related: F-cked Up Explain the Epic Tale of Love and Betrayal Behind David Comes to Life