It's Official: Nobody Cares About Paris Hilton Anymore
Her Oxygen show lures fewer than 500,000 viewers.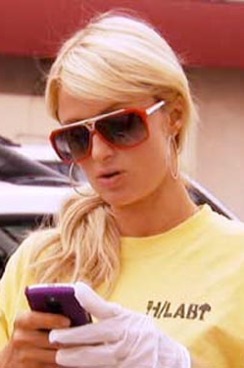 In the pilot for the new CBS comedy 2 Broke Girls, the socialite character is asked if she's friends with Paris Hilton. "Ew! No! She's 100 years old," is her response. It looks like the rest of America may feel Ms. Hilton is similarly played out. Last night's debut of the heiress's new critically lambasted Oxygen reality show, The World According to Paris, landed with a thud, attracting just 409,000 viewers, per Nielsen. How low is that? Well, Paris failed to crack the top 100 basic-cable broadcasts for the evening, drawing fewer eyeballs than a repeat of Everybody Hates Chris on Nick at Night and the umpteenth showing of White Chicks on Starz. Also, in March, Oxygen's debut of docu-series All About Aubrey (featuring the less-established singer from Danity Kane) brought in 724,000 viewers. Oxygen is spinning the Paris premiere as the network's "highest Wednesday series premiere" in key demos such as adults 18 to 34 and 18 to 49, but since the show drew just 183,000 viewers under 35, we're not so sure if that's a number to be bragging about.
A number of other cable shows had their season premieres last night. TNT's Men of a Certain Age continues to do an okay number, with 1.8 million tuning in. The far less interesting Franklin & Bash, sadly, attracted far more viewers (2.8 million). The night's No. 1 cable show? As always, Pawn Stars, with more than 5.2 million eyeballs.