Jack Black's Wildly Over-the-Top Red-Carpet Poses: A Retrospective
Be careful, you might get mugged.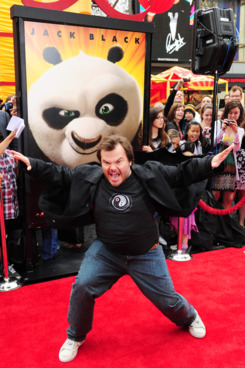 The red carpet can be a very scary place, but as Ryan Gosling and his Drive director, Nicolas Winding Refn, recently proved, it can also be an incubator for bromance. What happens, though, when you're by yourself on the red carpet, blinded by flashbulbs with the onus of selling the movie resting solely on your shoulders? Well, you could do what Jack Black does, which is go absolutely batshit crazy. With Black promoting Kung Fu Panda 2 on a world tour and with his newest film, Bernie, set to kick off the Los Angeles Film Festival tonight, what better way to celebrate than with a look back at his most vein-poppingly aggro red-carpet poses?