Summer Fashion School: Kreayshawn Reviews the Music Video Looks of Gaga, Britney, Beyoncé, and More
She talks bodysuits, pantslessness, head-gear, and more.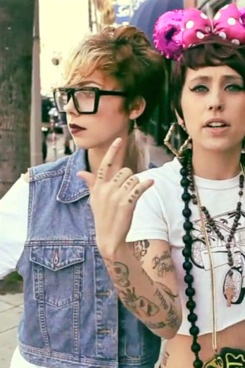 Since rocking a pair of Minnie Mouse ears in her sassy "Gucci Gucci" video, Kreayshawn has racked up 3 million YouTube views, landed a major record deal, and nabbed the title of Latest Controversial White Rapper. She has also, probably, made a few enemies in the luxury-goods industry, thanks to the hook of her single ("Gucci Gucci, Louis Louis, Fendi Fendi, Prada / Basic bitches wear that shit so I don't even bother"). Curious as to what un-basic bitches wear, Vulture caught up with Kreayshawn to discuss her sartorial vision, and more specifically, to examine the current state of Summer Music Video Fashion. She kindly agreed to watch the latest offerings from Gaga, Katy Perry, Britney Spears, and more, then give us her opinions. Click through for Kreayshawn's opinion on bodysuits, pantslessness, the sock-sandal look, and the evolution of Rebecca Black.