Louis C.K. Not Banned From Letterman After All
He'll appear next month.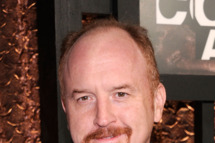 A few weeks ago, Louis C.K. told Esquire that he didn't appear on The Late Show With David Letterman anymore and hadn't in several years, even though he used to write for Letterman back in the day. "They don't have me on," he said, and "no one would tell [him]" why not. Well, the ban or whatever it was has been lifted: Louis C.K. is set to appear on Thursday, July 28, according to a show spokesperson.