How Would The Bachelorette's Creepy Mask Help Six Famous Movie Seducers?
We've put Jeff's weirdo love mask into Rhett Butler, Spider-Man, Mrs. Robinson ...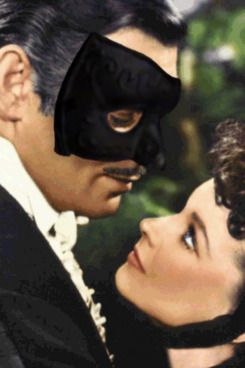 You've gotta have a gimmick, and The Bachelorette's Jeff has a doozy: In order to make Ashley fall in love with him (or press charges, whichever), he has worn an eye mask during his entire tenure on the show. In addition to serving as an unlikely homage to the short-lived, Monica Lewinsky–hosted 2003 reality serial Mr. Personality, Jeff claims that his unlikely fashion choice will prove to Ashley that "it's not about what's on the outside, it's what's on the inside that counts." And he's still on the show (in what is certainly not the result of producer meddling, right?), so it must be working! Inspired by his example, we've grafted his mask onto six of our favorite movie couples and seductresses. Does Jeff's sense of superfluous mystery force these famous lovebirds to up their game?