NBC's Smash Gets a Record Deal
The 'Glee' similarities keep on rolling.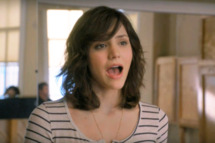 In a move that certainly won't tamp down the Glee comparisons, Smash — NBC's Vulture-anticipated musical drama — has inked a record deal with Columbia, the same label that keeps landing those deathless Glee soundtracks on the Billboard "200" week after week. The show, which revolves around a Broadway production about Marilyn Monroe, will feature both original music (written by Mark Shaiman and Scott Wittman) and covers. Also, the show's star, Katharine McPhee, who has put out two previous solo albums since her American Idol days, has snagged a solo deal with Columbia. By the way, earlier this week Columbia signed girl rapper phenom Kreayshawn. So: best office holiday party ever!