Nostalgia Fact-Check: Watch Ally McBeal With Us
Let bygones be not-bygones.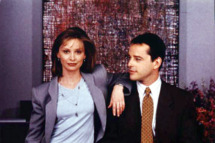 In the next installment of our Nostalgia Fact-Check series, Vulture is heading all the way back to 1997, when the hemlines were short, the babies were dancing, and feminism was apparently dying. Yep, Ally McBeal is the next pop-culture artifact we'll be reexamining. The entire five-season run is on Netflix Instant, so say hello to Cage and Fish and revisit Ally, Billy, Georgia, Richard, Renee, Nelle, John, Ling, the unisex bathroom, the overly quirky fetishes, the post-Clinton obsession with sex, and the soulful stylings of Vonda Shepard. We'll see you Wednesday.