Robert Rodriguez Explains His Spy Kids Sequel Scents to Vulture
He's added eight smells to the movie that audiences can sniff by swiping a free card.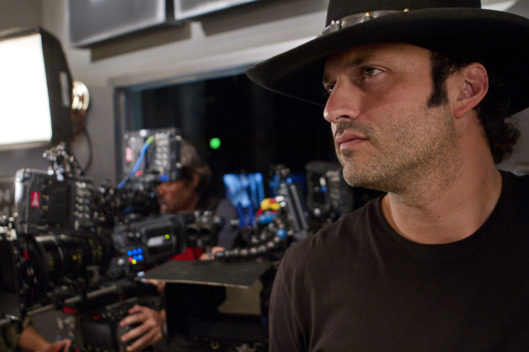 When Robert Rodriguez decided to make a fourth installment of his family adventure series Spy Kids, he had one very unlikely muse in mind: John Waters. Rodriguez had always been inspired by the scratch-and-sniff cards Waters distributed for his 1981 cult comedy Polyester, even though the marketing gimmick was a bit primitive in those days. "The technology wasn't there — after the second smell, everything smelled like batteries — but the idea was really fun," Rodriguez told Vulture today. "It was actually what drew me to the theater, because I wanted to check that out, and I remembered that when I was making Spy Kids 4. I thought, What can we do for Spy Kids 4 to make it '4-D'?"
This morning, Rodriguez revealed his answer. When audiences see Spy Kids: All the Time in the World this August, they'll take part in a sensory experience the filmmaker calls "Aromascope," where onscreen signals will prompt moviegoers to sniff one of eight scents on a card.
"Great minds have been working on the technology since the old days, so you don't scratch and sniff anymore," said Rodriguez. "It's really gotten amazing. You just swipe your finger across this card, and a very rich scent comes up that doesn't cross over with the other scents." Will he include any shocking smells, like Waters did when he incorporated the scents of glue and feces into the Polyester experience? Rodriguez laughed. "Sometimes, the ideas behind them will be surprising. We've got some great smells and some jokes, but I'm trying not to make anyone sick."
Rodriguez even incorporated the new trick into his story. "One of the characters in Spy Kids, the little boy, is hearing-impaired, and he makes a note early on that his lack of hearing has increased his other senses, like smell," the filmmaker explained. "He's able to pick up clues that other people aren't, just because of his nose."
Rodriguez has a history of resurrecting old marketing gimmicks for his Spy Kids franchise: When he put out the third movie in 2003, it was the first wide release of a 3-D movie in decades. In the years since, though, 3-D has become pervasive, and pundits worry that increasingly cash-conscious moviegoers are rejecting it for a cheaper movie ticket.
"The great thing about this is that you don't have to see it in a 3-D theater if you don't want to," Rodriguez promised. "If you're the kind of family who doesn't want to spend extra on a 3-D movie, you can go see it in a 2-D theater and still get the extra fourth dimension of smell." He chuckled. "I ain't chargin' you more for that."