The Voice Judges Will All Be Back for Season 2
Never leave us, Blake Shelton.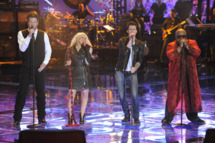 Christina Aguilera, Cee Lo Green, Adam Levine, and Blake Shelton will be back for the second season of The Voice, NBC announced this afternoon. Given the love-fest display on last night's finale, it's not too surprising. The four judges were all incredibly shmoopy toward the finalists, with Cee Lo vowing to Vicci that they would "forever be bonded" and that he'd be there for her. Christina gushed that she loved Beverly "so much," and said that the other judges were "like the big brothers [she] never had." "I know now why I get so emotional around you," Blake told Dia. "You are family to me now, and I love you." And Adam could barely contain himself when Javier won. Emotional investment! It's not clear yet if Aguilera will continue to make more money than the other three judges combined, but either way, the Voice carnival of feelings comes back this winter.