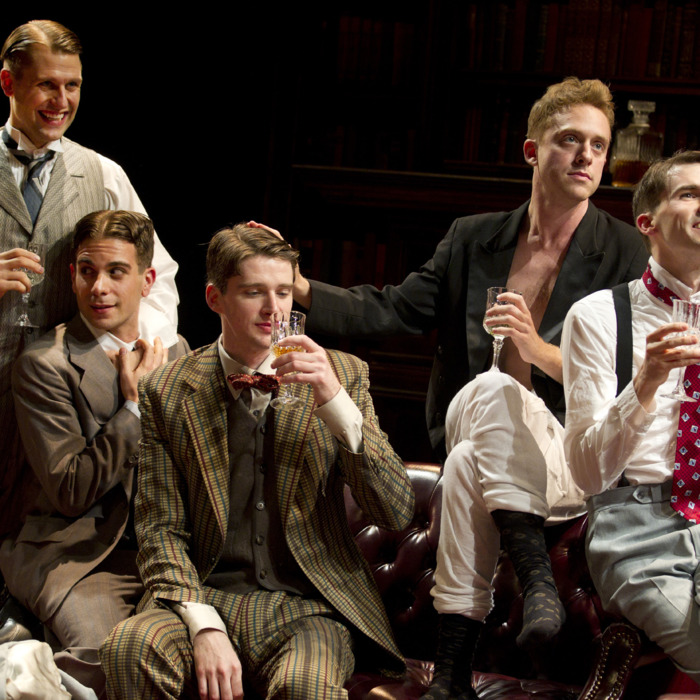 Photo: Joan Marcus/??2011 Joan Marcus
For centuries — centuries! — Harvard University has been a place where ambitious young men are encouraged to don dresses and indulge in raunchy badinage, all under University auspices (most famously via the Hasty Pudding Theatricals, est. 1795). And yet, in 1920, the subtext of all that harmless Ivy League drag came a bit too close to the surface for the comfort of Harvard's top brass, and a "Secret Court" was convened to root out and purge homosexual activity from the then-all-male student body.
The spark was a suicide: Cyril Wilcox, Class of '22, gassed himself to death at his home in Fall River, Massachusetts, and was discovered in possession of letters implicating him and many of his classmates in the arrangement of semi-covert, booze-fueled, sexually charged undergraduate parties in the suite of the son of a former congressman. The parties were attended not only by students but also by men from the surrounding area, many of whom were located and deposed (by force, when necessary). Within a month, a five-man tribunal of deans was commissioned by President Abbott Lawrence Lowell himself. They met sub rosa, called witnesses by candlelight, and acted as their own stenographers. Soon, they'd extracted humiliating depositions ("Do you masturbate? When was the last time you masturbated?") from many of the students who'd attended these parties. The deans expelled more than a dozen — in many cases not only from the college but from the City of Cambridge itself. At least one additional suicide directly resulted from the investigation, and more than a few lives were ruined. The findings of the "Court" were sealed for 82 years, until they were finally pried out of the college archives by repeated requests from the student newspaper.
Unnatural Acts is the first theater piece based on these remarkable transcripts to reach production; it probably won't be the last. (Another "Secret Court" play, Veritas, is currently in readings.) Using elements of dance- and docu-theater to mostly riveting effect, director-conceiver Tony Speciale and his Plastic Theatre company — which includes cast members and co-authors Max Jenkins, Frank DeJulio and Jess Burkle, among others — have created a sleek and brutal anatomy of the court's proceedings and the events (real, probable, and invented) leading up to it, with an eye to preexisting fissures of class, rank, and guile that widen to chasms as the boys turn on each other. Nick Westrate (The Little Foxes) is especially good as Ernest Roberts, the group's blue-blooded overlord turned chief hypocrite; and Jenkins is soul-searing as a silver-tongued anthropology major with an ax to grind against a more vulnerable classmate. The flaying is played out on the well-worked parquet floor of Walt Spangler's spare, shadow-cut set, a frame of wood and brass with a cold void inside; Justin Townshend's knifelike lighting scheme prepares us for a vivisection. Which Unnatural Acts delivers, along with damning lessons in power, persecution, and solidarity — or lack thereof. In any tale of injustice, we instinctively look for a hero, a leader. Unnatural Acts wisely denies us even a stable central character; this is a nightmare from an age before the invention of gay identity, and there's no brotherhood for anyone to fall back on. To admit to that brotherhood means certain destruction, and to deny it means the same. And, standing alone, no one lasts long under those cold lights.
In fact, the play only stumbles when its authors try to give us a single, steady voice to cling to: They've fashioned a mellifluous narrator out of Eugene Cummings (Brad Koed), a 23-year-old dental student also called before the court, but his overlush expository monologues compare so poorly and purply to dialogue derived from the transcripts themselves, he becomes more a strange distraction than a trusty Virgil. In the end, this is a story without a guide — only scraps of old paper and bits of shredded lives.
Unnatural Acts is playing at the Classic Stage Company through July 10.