Five Nagging Questions About this Sunday's Tony Awards
Will CBS let 'The Book of Mormon' cast belt out its best and most profane tune?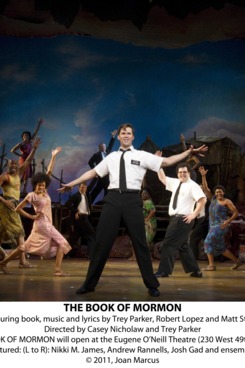 This just in: Renowned Armageddonologist Harold Camping (no theater fan, despite the surname) has revised his prediction and has now determined that the world will end approximately three quarters of the way through the opening medley of the 65th Annual Tony Awards broadcast on Sunday night. But just in case he proves zero for three, here are five highlights that sharp-eyed theater fans should look out for on the CBS awards cast. (Which I will be live blogging, right here on Vulture. See you at the theater at eight! By which I mean: If you're at the theater, chances are I will see you, using my television. I like my Tonys at a safe distance, especially if they're going to be dangling Bono over rows A - K.)
Will God Be Mocked? How About a Spider-Goddess?
I can dream that the the Tonycast will include The Book of Mormon's "Hasa Diga Eebowai," the category favorite's most talked-about number, which contains a helpful suggestion for the Supreme Being that might be anatomically impossible, even for Him. But considering the extreme de-crass-ification of past broadcasts, it seems unlikely that CBS will allow tuneful, good-natured blasphemy on its Tiffany air (yes, the same crystalline ether that, until recently, transmitted Charlie Sheen). Full-contact God-cursing just isn't easily bleepable. The show's medley will most likely open with Mormon's doorbell-ringing opening number, "Hello!" Later, we're told there'll be a number anchored by Best Actor in a Musical nom Andrew Rannells. (I believe it'll be "I Believe," but don't make me swear on the Bible.)
A more mockable deity might be Arachne, the eight-legged Greek goddess/god-esque who's seen her part in Spider-Man: Turn off the Dark reduced significantly since the departure of her chief sponsor, original director/conceiver Julie Taymor. Host Neil Patrick Harris has lamented his inability to pull off an "actor-dropping" sequence in commemoration of Spider-Man's early, occasionally hazardous technical difficulties, but expect plenty of jabs at the ubiquitous Webslinger — despite the fact that he's actually in the show, with Reeve Carney to duet with Bono, likely "Rise Above." (Last year, he was memorably impersonated.) For those keeping score at home: This will be the second of three spider-infested Tonys, presuming Turn off the Dark opens as scheduled next Tuesday and is eligible for awards consideration in 2012. If the Empire Strikes Back rule holds, that means this one should be the best — and also, that someone will lose a hand.
Will the Boy Who Lived (Without a Nomination) Get His Revenge on the Dance Floor?
Daniel Radcliffe's rightly ballyhooed hoofery in How to Succeed in Business Without Really Trying comes to a climax in "Brotherhood of Man." This is the same roof-raiser used in the Tonycast back in 1995, when Matthew Broderick played Finch, H2S's quick-thinking corporate-climber, but Rob Ashford's new choreography and staging is pretty different and a lot more athletic. It seems like this number would be the perfect sop to the Radcliffe-Wuz-Robbed Lobby. But the press releases have highlighted the participation of Radcliffe's co-star (and actual Tony nominee) John Larroquette, which makes me wonder if they'll go with "Grand Old Ivy" and kick "Brotherhood" into the medley. Either way, there'll be cutaway shots of fellow bridesmaid Catch Me If You Can's Aaron Tveit looking sad.
Will the All-Star Company Make the Tonys Safe for Celebrities Again?
In a year when Vanessa Redgrave and Al Pacino are considered dark horses while the Joe Mantellos and Mark Rylances of the world slug it out for supremacy, one thing's clear: Broadway has declared its independence from boldfaced names. (We'll see how long that New Year's resolution holds up.) But the reunion of Lincoln Center's star-packed staging of Company — a glittering mob that includes not only host Harris as Bobby, but also Stephen Colbert, Jon Crier, Martha Plimpton, and Patti Lupone — will remind everyone that name recognition is still a factor in basic theater economics. And if a passel of singing famous folk doesn't get the message across, scads of un-nominated famous people will show up to present awards, among them Robin Williams, James Earl Jones, Chris Rock, and, naturally, Samuel L. Jackson. (Why Jackson? Spoiler alert: After the credits roll, he'll show up and ask Norbert Leo Butz to join an elite team of superheroes. And, he's starring as original Avenger MLK in next season's The Mountaintop.)
Will Paul Shaffer and Martha Wash Make it Rain Men?
What has two thumbs and often forgets that Paul Shaffer wrote "It's Raining Men"? This guy! Who didn't forget? The Tonycast producers. Performing his '79 disco hit — a centerpiece of the un-nommed clubsical Priscilla, Queen of the Desert — Shaffer will accompany vocalist Martha Wash, the song's original interpreter; it's a number designed to placate even the most embittered Priscilla partisan.
Will Alec Baldwin Announce His Intention to Seek "The Weiner Seat"?
Alec Baldwin's down as one of the presenters, and I can only imagine he'll use the occasion to announce that he's abandoning his mayoral fantasies and instead declaring his candidacy for Anthony Weiner's soon-to-be-vacated congressional seat. Between this and the Larry Kramer filibuster that will accompany The Normal Heart's likely Best Revival win, expect levels of rhetoric not seen since the heyday of William Jennings Bryan. I doubt there's an orchestra on the planet that could play off these guys, if they really dig their heels in.
Related: Scott Brown and Jesse Green Debate Who'll Win at the Tonys, Who Should Win, and Who Wuz Robbed