Breaking Bad Breaks Its Own Ratings Record
It's more popular with the kids than 'Mad Men'!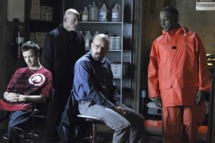 Viewers continue to pick up the Breaking Bad habit: Sunday's season four premiere was the most-watched episode in the AMC show's history. According to preliminary Nielsen data, the hour averaged 2.6 million viewers, up 30 percent from March 2010's season three opener. More than half of the show's audience (1.45 million) was under 50, another record. One more fun fact: While Mad Men has a slightly bigger overall audience, Sunday's Bad outdrew last July's Mad premiere by 19 percent among viewers under 50 and by a stunning 56 percent with adults under 35. Two lessons can be learned from this. First, many folks clearly took Vulture's advice and caught up on Bad via DVD and AMC On Demand. And second, Vince Gilligan should start asking for Matt Weiner money.